IronGlove Studio Named a Company Owned by Certified Clutch Veterans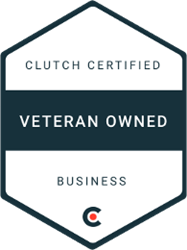 Getting Clutch recognized as a Certified Veteran-Owned Company is an honor.

OREGON CITY, OR (PRWEB)
August 08, 2022
iron glove studioan Oregon-based design and development company dedicated to providing world-class web and application design and consulting solutions to businesses, government agencies and public organizations in the United States, was named Certified Veteran-Owned Company by Clutch.
Clutch is a Washington, DC-based assessment and review platform for technology, marketing, and business services. The site publishes data-driven content such as customer testimonials, market reports, and agency shortlists to help business clients connect with the best-suited service providers.
As part of its rating services, Clutch seeks to identify the diversity of service providers through its certification program. The program allows providers to self-identify their veteran, minority, and LGBTQ+ identities, removing some of the difficulties and paperwork that other certification bodies have put in place to obtain such certifications. Certification opens these companies to potential new business partnerships with other companies that specifically want to do business with various suppliers.
To achieve certification as a Clutch Certified Veteran-Owned Company, IronGlove Studio had to demonstrate that it was at least 51% veteran-owned, attend an interview to confirm credentials, and provide proof. additional ID, as requested.
"Based on our extensive experience with small businesses across the country, veterans continue to represent a significant percentage of the hardest-working, highest-rated group of business owners we interact with," said DJ Fajana, head of commercial development of Clutch. "Their dedication to their customers, much like their dedication to the country, is absolutely unparalleled."
IronGlove Studio was founded by military veteran Derek Neuts. In addition to being a Veteran-Owned Business, IronGlove Studio is a COBID Certified Disabled Veterans Business Enterprise in Oregon. This means the company qualifies for public no-bid contracts up to $50,000.
Recently, IronGlove Studio also received local recognition for its work. The company has been featured on Manifest list of the best software development companies in Portland, Oregon for 2022. The Manifest is a business news resource that curates research-based content and articles.
"Getting Clutch recognized as a Certified Veteran-Owned Company is an honor," said Neuts. "As a small business hyper-focused on delivering exceptional customer service, certifications like this and our designation as a COBID company help us stand out and compete with larger companies. keep it small so we can work with each customer individually and continue to deliver a great product."
In addition to its industry-specific work, IronGlove Studio is also committed to giving back to the community in meaningful ways.
"As a veteran and business owner, I have always strived to make a difference in the world around me, giving back to the communities where I live, work and play," Neuts said. "I try to convey this sense of social responsibility to our team. We've helped small businesses in need with a free website, and partner with our local chambers of commerce when we can to support them in their important mission.
To learn more about IronGlove Studio, visit https://www.ironlove.studio/.
Share the article on social networks or by e-mail: