How to Choose White Label Crypto Exchange Software for Business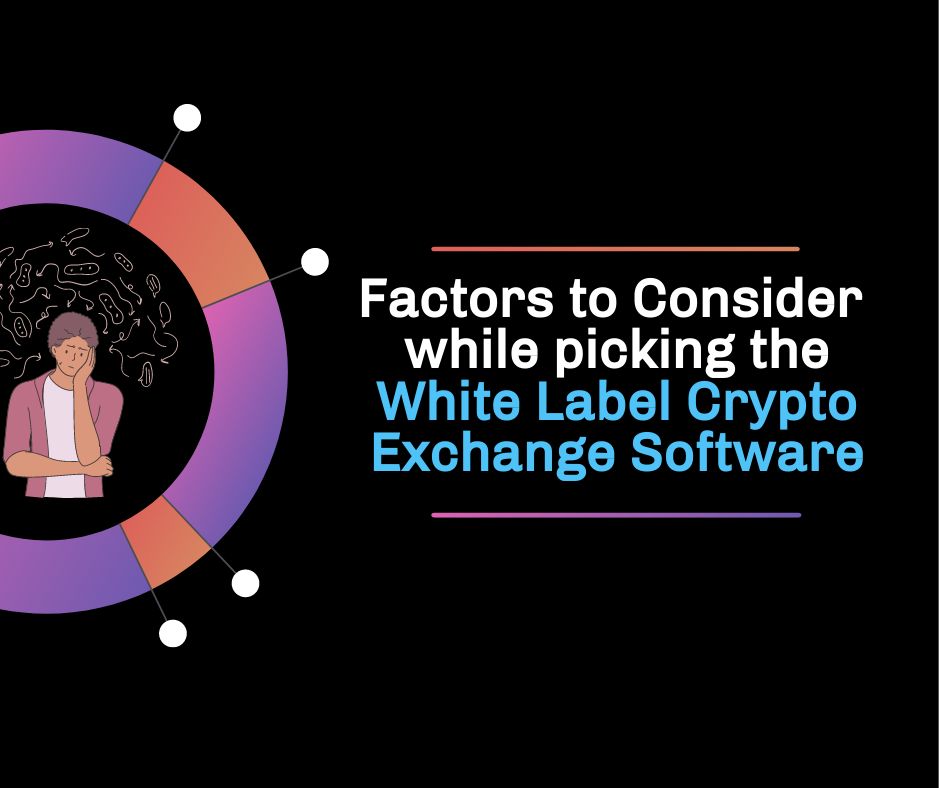 Cryptocurrency is a trillion dollar industry and it opens the door to opportunities for all companies and startups that have the vision to build a separate ecosystem and reap profits in the crypto community. Among various crypto business ideas, cryptocurrency exchange is seen as an excellent revenue generation opportunity for emerging startups.
One can create a fully operational crypto exchange in the most efficient way by choosing the best feature-rich white label crypto exchange software.
Starting a trade using out-of-the-box crypto exchange software is easy as pie, but the toughest task is choosing the right trader from a reliable provider. In this article, I will explain why white label exchange software is an optimal solution and how a startup should select this type of software when it comes to the crypto exchange business.
White Label Crypto Exchange Software – An Outstanding Solution for Startups
Startups who want to enter the world of crypto in a minimum of time by launching an exchange can use this amazing software. Indeed, white label trading software has several advantages that cannot be denied by anyone. It is a pre-built crypto exchange software that includes all the must-have technical features and advanced plugins to deploy a stunning crypto exchange.
You can start your unique exchange business within 7 days or 10 days when you have bug-free white label crypto exchange software. This software would eliminate all chances and technical issues that a startup faces when developing an exchange from scratch.
The scope of customization you get from the best white label exchange software is high so you can optimize the software from design to basic backend functionality according to your business needs.
By using this software, you can also imitate any popular crypto exchange business model you choose. Apart from all the above-mentioned factors, the main advantage that has attracted startups is the expense involved in designing this software.
So what is the cost of premium white label crypto exchange software? It would be at a moderate cost and once you know the cost of developing this software, it will definitely blow your mind.
The cost of the best white label crypto exchange software will be approximately around $7,000 – $12,000. However, any customizations or changes you make to the entire software will determine the exact cost.
After reading all these facts, you might get an idea of ​​the importance of this software and why I say this software is an ideal solution to start your crypto exchange business.
Now, let's dive into…
Prominent Factors to Consider While Choosing White Label Crypto Exchange Software
Let's find out the hidden factors to consider before buying any launch-ready trading software from the vendor in the market.
Technology used
Users will mainly prefer innovative technologies for crypto trading. So check if the software you have chosen is designed on the latest technologies.
Experience & Portfolio
The year of experience of the software vendor will help you determine how genuine they are in developing the exchange software. You can also follow their full portfolio, which will help you examine their reliability when it comes to developing white label crypto exchange software.
Personalization
You need to check whether the software you are going to choose is optimizable or not. Changes you make to the exchange software will showcase the uniqueness of your platform in the crypto industry.
Instant deployment
The main alluring factor of white-label exchange software that has caught the attention of many startups is "rapid deployment". So, select the software which has the ability to initiate the exchange on the server instantly without any technical issues.
Technical characteristics
Check the trading features that are equipped in the exchange software. Make sure that all enabled features match your expectations as well as your business concepts.
Security
White label software must be developed with high-end security protocols to protect the crypto exchange from all kinds of fraudulent activities.
Profitable
The feature-rich white label crypto exchange software you acquire from the provider will already be reasonably priced. If the cost of this ready-to-use software is between $7,000 and $12,000, then choosing this software is a wise choice.
Reviews and comments
This is the most vital factor to consider. You must check all customer reviews before purchasing this software from the vendor.
Check the demo
This is the last factor to consider. Get the white label crypto exchange software live demo. Currently, professional and reputable crypto exchange script providers provide software demo. Take a look at the demo and check the quality of the software before investing in it.
Wrap
I hope this article will surely be helpful in choosing the best and most feature-rich white label crypto exchange software to start your exchange business. Therefore, consider all the essential factors mentioned above before purchasing the software.
The most important part for you is to find and connect with an industry-trusted white label crypto exchange software provider. I say this because they will guide you to do the required customization on the software according to your needs. And finally, you can deploy the exchange platform on the server of your choice with a professional touch.
LOADING
. . . comments & After!