How to Choose a Custom Software Development Partner for a Business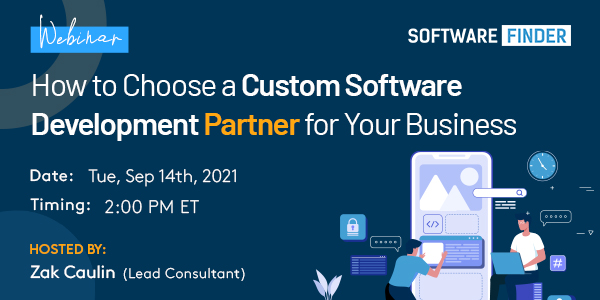 The goal of the webinar on September 14, 2021 is to help anyone interested in building their own app or custom software for their business.
LOS ANGELES (PRWEB)
August 09, 2021
The growth of technology and its needs, especially in a socially remote world, has created a new era of digitalization. As a result, technology is truly changing the way we live and do business, from connecting people around the world to creating world-class solutions to pervasive human problems.
Witnessing how technology has solved the problems of most businesses, businesses large or small, regardless of industry, are gradually embracing technological solutions to their problems.
Building custom software solutions that meet the unique needs of each business has therefore become an increasing part of the business plans of most companies. But, unfortunately, it is on how to create these solutions that most of the companies are hesitant, as there are thousands of software development vendors offering similar services across the world.
Software Finder will be hosting a free webinar titled " How to Select a Custom Software Development Partner for Your Business?"On Tue, September 14, 2021, 11:00 AM – 12:00 PM PDT.
During the webinar, panelists will address topics such as:
1. Describe business requirements and tips for avoiding obstacles

2. Advantages and disadvantages of hiring in-house development or outsourcing to a third party

3. Includes development costs per hour + Pricing models

4. Best options for after-sales service and maintenance

5. Identify the value-added services that a software development partner can offer
Space is limited, so you are encouraged to act early. It will be a one hour webinar packed with valuable information and 15 minutes of Q&A at the end. Register now!
Registrants will also benefit from a free consultation with Software Finder advisors to help them find the right software company for their business. You can also contact Software Finder Consultants by calling their helpline directly at 661 384 7070.
About the Software Finder

Software Finder is a B2B business that helps businesses manage their software buying journey. Its network includes over 3,000 product listings, over 100,000 genuine user reviews, and 100 buying consultants who help businesses on their buying journey.
Share the article on social media or by email: